Anypoint Exchange 2
While working on multiple products, my main focus at MuleSoft is Anypoint Exchange - a collaborative repository that encourages users to reuse and share APIs and other assets. The "Exchange team" is a collaboration of 2 Product Managers, 1 UX designer and 10+ Engineers based in 3 different time zones.
Anypoint Exchange consists of a MuleSoft provided public list of APIs, examples, connectors, and templates that you can use to create applications.
Organizations can also have private Exchanges that list their APIs, examples, connectors, templates, and custom assets for creating applications within their organization. Private Exchange assets enable Anypoint Platform users to publish and access Mule-related content within their own organization increasing visibility and reuse.
My role as the lead designer for the product called for a close collaboration with product management, back-end engineering, front-end engineering, research and design, as well as other stakeholders.
Defining the persona
To align strategy and goals we defined key personas for Anypoint Exchange. For a broader understanding of the specific user groups, we listed their desired outcomes and current obstacles, along with a Quote and their archetype.
Design thinking and user validation
It is important to talk to users early in the process in order to understand their mental model. To refine the product definition, we decided to introduce a new process - to bring together Product Managers, Developers, Support Engineers and UX designers in a design thinking session, and validating the designs with MuleSoft users.
Within a couple user interviews, we were able to define the pain points our users faced. The highlighted problems were a basis for our workshop.
The internal participants worked in groups, each containing at least one product manager, developer, support engineer and a UX designer. This was a great opportunity for cross communication between different teams at an early stage.
Each team presented the results of their collaboration at the end of the day. The ideas were used for remote design validation sessions with existing users. During the presentations, valuable conversations were starting to form.
The newly introduced exercise had a very positive impact internally, as well as with our users. The early collaboration in the organization, before the product was fully defined kept teams engaged and reduced working in silos. Our users were very satisfied to have a voice and be a part of the design direction.
The Object model
Working closely with with project managers, engineering managers and developers was crucial for clear communication between the remote teams. In order to fully understand how the project fits within the platform and define its scope, we turned to creating an object model, which was shared and communicated across the whole organization.
Logic Flow Mapping
Anypoint Exchange is a complex system. Creating detailed logic flows was crucial for breaking down tasks and planning.
The diagrams served as a valuable communication tool between design, product management and engineering.
Design Research: Finding similar design patterns
Although design research has been present in the design process since the beginning, a more in depth exploration has taken place in the stage before wireframing. We researched similar products from competitors, as well as looked for similar patterns in various interfaces.
Wireframing interactions and layout
First wireframes are usually hand drawn sketches, allowing a quicker and more organic ideation. Keeping the sketches in low fidelity and staying away from any details on the page has proven to be the best for communication this stage of design. The conversation is easily derailed and focused on a specific detail when the design presented is at a higher fidelity.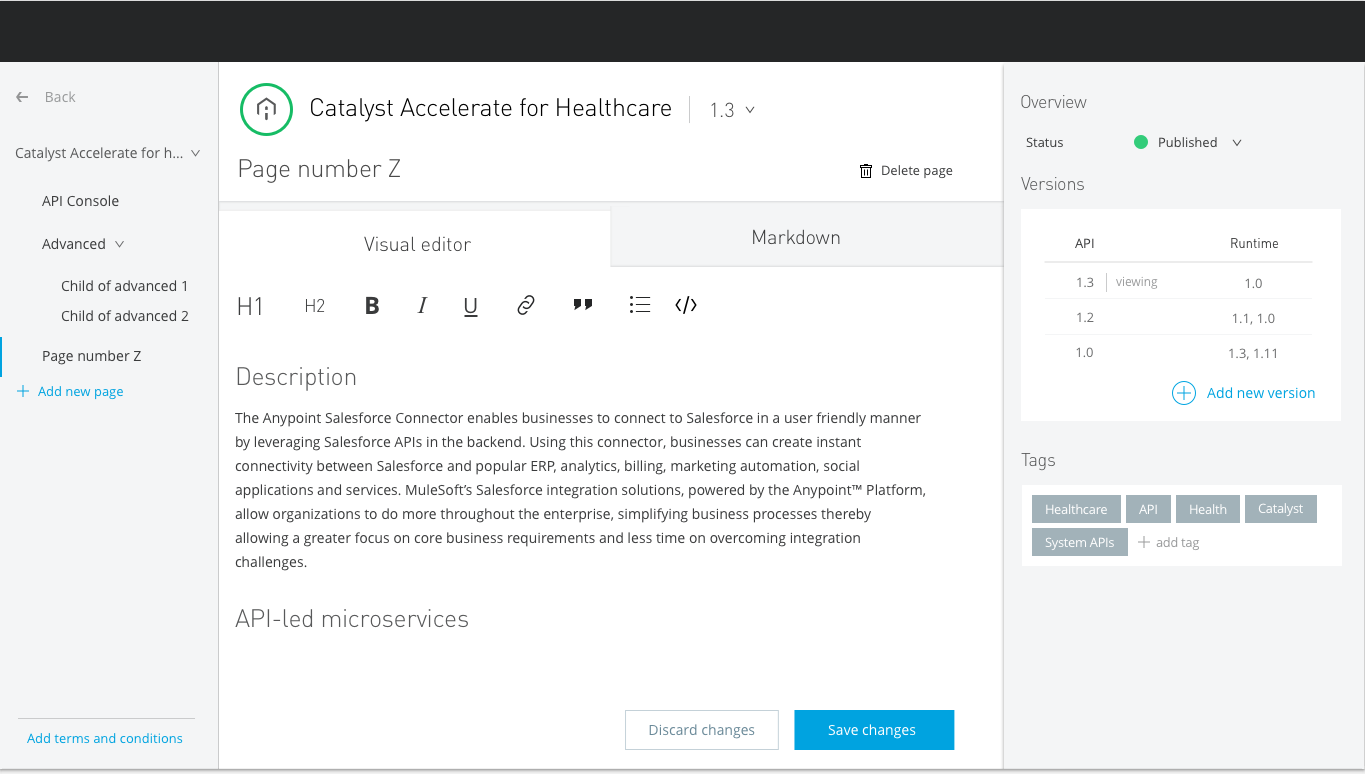 Usability Testing
Usability study for Anypoint Exchange was executed in remote sessions with a working prototype of the product. The 7 participants were existing MuleSoft customers, one group of users had pre-existing knowledge of an older version of Anypoint Exchange, the second group never used the product. The interviews participants were asked to complete 4 tasks, which resulted in a 100% success rate.
User Onboarding
A last step before launching the product was building an onboarding experience, which introduced the main new aspects of Anypoint Exchange. Based on the positive results of the usability study, we decided to build a simple 5 step overlay appearing only once.